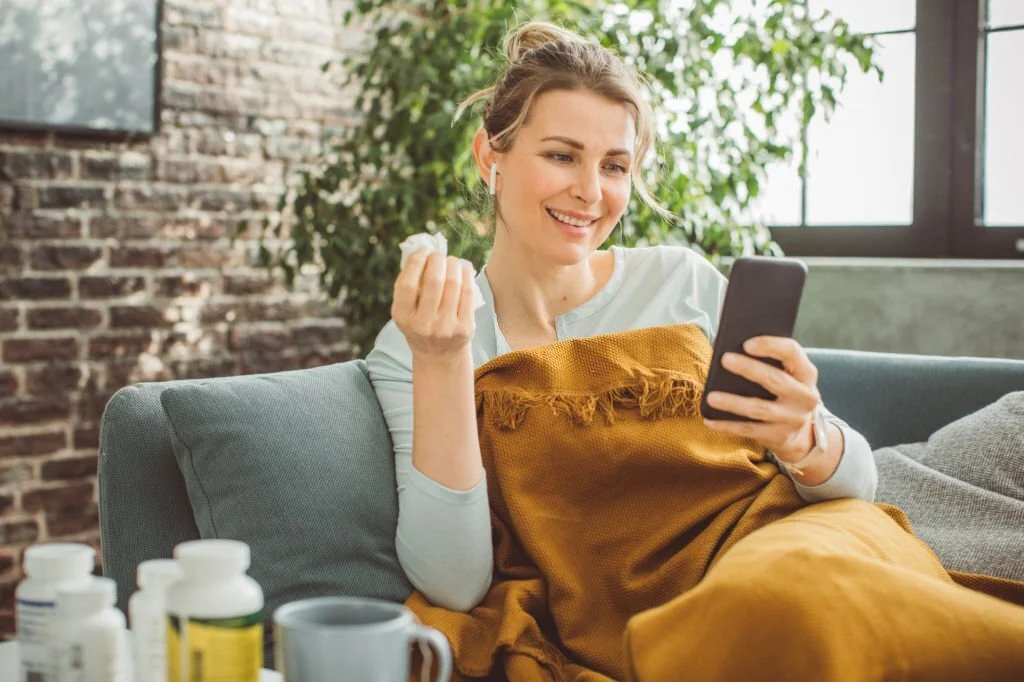 Get a Prescription for Metoclopramide Online
Metoclopramide, also known as Reglan, is a frequently prescribed pharmaceutical agent utilized for the management of diverse gastrointestinal disorders. It is primarily utilized to address issues such as gastroesophageal reflux disease (GERD), gastroparesis, and nausea and vomiting induced by surgical procedures or medical treatments like chemotherapy.
If you have these conditions, you can refill Metoclopramide online. Obtaining a Metoclopramide prescription online is simple; visit Your Doctors Online and connect with a doctor anytime, anywhere. Our online doctor will ask about your symptoms to determine treatment. They may suggest a follow-up appointment or clinic visit.
Please know that a Metoclopramide refill will only be provided after a consultation with our doctor and if the medication is appropriate and safe.
How to Connect with an Online Doctor?
Connect with a health care professional online in 3 easy steps.
Download our app, register and tell us about your medical issue to get started.
Anti-Emetic
Anemia
STD
UTI
Skin
Covid
Connect with a board-certified doctor. You can chat, send pictures and videos.
Hi I'm dr. Nicole. How may I help you?
Dr. Nicole, I am experiencing nausea; I feel better after taking Metoclopramide. Can you give me a Metoclopramide refill?

Our online doctors can help you with your medical issues and give you prescriptions.
Metoclopramide 10 mg tablet, take one tablet 3-4 times a day.
Send Prescription
What is Metoclopramide and How to Take It
Metoclopramide falls under the category of gastrointestinal prokinetic agents and is primarily used as an antiemetic medication. Its therapeutic applications include the management of gastrointestinal disorders such as gastroesophageal reflux disease (GERD), gastroparesis, and nausea and vomiting induced by surgery or medical treatments like chemotherapy. Among its various brand names, Reglan(Metoclopramide) is a well-known one. Metoclopramide is available in different forms, including tablets and syrup, and shares its therapeutic class with drugs like domperidone.
The main mechanism of action of Metoclopramide involves the stimulation of specific receptors called dopamine receptors, found in both the gastrointestinal tract and the brain. This stimulation increases motility in the upper gastrointestinal tract, facilitating the more efficient movement of food and liquids through the digestive system. Additionally, Metoclopramide aids in the relaxation of the lower esophageal sphincter, providing potential benefits for individuals dealing with GERD.
The administration of Metoclopramide depends on the particular dosage form recommended by your healthcare provider. Generally, it is ingested orally, either in tablet or syrup format. The frequency of dosing may differ, but typically it entails taking 10 mg three to four times a day, usually before meals, as per your healthcare provider's instructions. It is advisable to consume Metoclopramide with a glass of water. Please note that the total daily dose should not surpass 40 mg within a 24-hour period.
Important Information About Metoclopramide
Metoclopramide is an antiemetic drug. You will require a prescription for Metoclopramide. Here are some essential points that you should know about this drug:

Frequently observed side effects of Metoclopramide can encompass drowsiness, restlessness, and gastrointestinal issues such as diarrhea or constipation. Typically, these side effects are of mild intensity and temporary in nature.



Serious adverse effects associated with Metoclopramide are infrequent; however, they may involve movement disorders, including tardive dyskinesia, which can potentially be irreversible.




Metoclopramide can potentially interact with specific drugs, including antipsychotics such as aripiprazole and few narcotics. It's crucial to share all the medications and treatments you are presently taking with your healthcare provider. This disclosure helps prevent potential drug interactions.
FAQs About Metoclopramide
Is Reglan over the counter?
No, Reglan (Metoclopramide) is not commonly found over the counter (OTC). It is a prescription medication employed to address diverse gastrointestinal conditions. To acquire Reglan, you must possess a valid prescription from a healthcare provider, such as a gastroenterologist or primary care physician.
How long does Reglan take to work?
The onset of action of Reglan (Metoclopramide) can fluctuate from person to person and relies on the particular condition being addressed. For intravenous administration, it typically takes 10 to 15 minutes, while tablets and liquid forms may start working after 30 to 60 minutes. It is crucial to adhere to your healthcare provider's guidance and allow the medication sufficient time to produce its effects.
How often can you take Reglan?
Your healthcare provider will typically establish the dosing frequency of Reglan (Metoclopramide) based on your particular medical condition. For adults, the standard dose is 10 milligrams (mg) taken four times daily, ideally 30 minutes before meals and before bedtime. This regimen is usually prescribed for a duration of 2 to 8 weeks, with the total daily dose not surpassing 40mg.
How long do Reglan side effects last?
The duration of side effects linked to Reglan (Metoclopramide) can differ from person to person. Typically, common side effects such as drowsiness or gastrointestinal symptoms are of a mild and transient nature, and they tend to resolve relatively quickly.
What is a substitute for Reglan?
Your healthcare provider may explore various alternatives and replacement options for Reglan (Metoclopramide), depending on your individual condition. These alternatives might involve considering other gastrointestinal prokinetic agents like domperidone or adopting different strategies to address gastrointestinal symptoms.
Is Zofran the same as Reglan?
Zofran (ondansetron) and Reglan (Metoclopramide) are not identical medications. Although both can be utilized to alleviate nausea and vomiting, they fall into separate drug categories and operate via different mechanisms.
What is the typical starting dose of metoclopramide?
The typical starting dose of Metoclopramide is 10mg, taken three times daily. Your healthcare provider will establish the suitable starting dose and dosing regimen according to your individual requirements. Adhering to your healthcare provider's guidance concerning Metoclopramide usage is crucial.
Who should not take metoclopramide?
Metoclopramide should not be taken by individuals who have a known allergy to Metoclopramide or its components, those with gastrointestinal blockage or perforation, bleeding or obstruction in the stomach or intestines, pheochromocytoma, a history of seizures, Parkinson's disease, breastfeeding mothers, severe kidney or liver problems, uncontrolled hypertension (high blood pressure), a history of mental health disorders, or in specific medical conditions that may contraindicate its use. Always consult a healthcare provider for personalized guidance and safety considerations.
This is the best app..You ask anything and the doctors answer you within minutes, i love it

-Phindile Mkhatshwa


It is a good app, it can be helpful with pictures and be very detailed.

-brooke snow


Wow, these people are such a blessing. Dey give accurate answered to questions asked. Its really too good

-Okiti Stephanie


Impressive work !! Connecting to a doctor was so quick. I am really impressed.

-ASIF Khan


Doctor was really great, fast at responding very helpful

-Chelsey


Chat with them the doctor that I chat with very helpful and answer all my questions I recommend to anyone

-edith bien aime


The best patient doctors that understand and give you useful information ..I'm really thankful.

-Lesego Thejane


Very informative and very detailed in explanations.Also pleasant and courteous.I would recommend to anyone.

-Stephanie Brown


Very helpful, very polite and answers every question in a well mannered way.

-kulwinder gill


I really rate this website a lot, you people don't stick and and im sure you try your best to take swift actions for your patients.

-Elijah Mark


Talk to online doctors now and get medical advice, online prescriptions, and referrals within minutes. On-demand healthcare services at your fingertips.