Keep your practice running smoothly by following our tips on how to keep your patients from canceling their appointments. 
Missed appointments are a genuine concern for medical practices around the world. Patient Prompt reported that with an average appointment cost of $125 in the United States, a 13% missed appointment rate would result in a loss of $32,000 each month. 
In countries with a universal health system, there is an additional concern of how missed appointments cost the entire system. Last year, the UK's National Health Service revealed that a 5% no-show rate cost the system £216 million pounds in a year. 
in 2018 alone, it's estimated that no-shows cost the healthcare industry more than $150 billion a year. In addition to the cost of no-shows, it also results in a patient not getting the care they need. In addition, another patient who could have taken that appointment time is also not getting care. 
The average no-show rate internationally is 23%. However, there are easy ways to limit the amount of missed appointments at your practice. 
Don't Overbook
Many doctors argue that missed appointments lead to longer wait times. Unfortunately, this can lead to a dangerous cycle. If you are overbooking your schedule and your patients are experiencing long wait times they may not hesitate to miss their appointment. 
If your patients do show up for their appointment, they decide it makes more sense to arrive late. This means you create a situation that is difficult to fix if you do decide to stop overbooking. 
Today's patients are often having to arrange childcare, time off work, and transportation in order to attend their appointment. Adding an unnecessarily long period of time in the waiting room makes it much more difficult for your patients to attend their appointments. 
Not only does long wait times lead to patient dissatisfaction, but it can also lead to a hectic schedule for you. When you have a waiting room full of patients you can feel harried and the level of care you will be able to provide to your patients will also be compromised. This is how no-shows can lead to lost patients. 
Schedule Patients as Soon as Possible to Avoid Missed Appointments
Without falling into the pattern of overbooking, leaving room in your schedule for urgent need appointments is beneficial to reducing no-shows. In an analysis of NHS data, it was found same-day appointments accounted for only 2% of no-shows. This is especially important as these appointments are the most common. 
On the flip side, appointments that are booked 15 days or more in advance made up nearly one-third of all missed appointments. This has been also shown in Canadian studies where the risk of missed appointments increased the further in advance clinics book appointments. 
Consider starting a cancellation list where patients can sign up to be called in the event of a cancellation. This can help encourage patients to reschedule when they are unable to make their appointment as well as offer more same-day availability. 
Send Appointment Reminders to Avoid Missed Appointments
Forgetting an appointment is the most common reason for a missed appointment, according to a Canadian study. Of course, there are many ways to rectify this situation. One way is to write down the appointment for your patient if the appointment is made in person. Providing a magnet with your practice's contact information and address is a good way to ensure that your patient will be able to easily contact your practice if they need to reschedule their appointment. 
A great way to ensure you can set appointment reminders is to ask your patients the best way to get in contact with them. You can add this information easily to your intake forms. This way you know whether they would prefer an email, text, or phone call to remind them of their appointment time. 
Of course, manually making phone calls and sending emails can use a lot of resources. Fortunately, there are options, including Your Doctors Online Virtual Care, that offers automated appointment reminders. This is a great way to save valuable admin time while still ensuring your patients keep their appointments. 
Be Easy to Find
Along with providing a take-home magnet with your contact information, it is also important to be easy to find online. Make sure that your updated location is easily found online. Register your business on Google my Business. Make sure that all of your contact information is correct and up to date on sites like Yelp. 
Consider a Relationship-Based Approach to Avoid Missed Appointments
One consideration when it comes to managing missed appointments is to consider the relationship you have with your patients. Are you rushing from patient to patient or do you have time to get to know your patients and develop a relationship? This is important to consider as  27% of Concierge Medicine Doctors said "because we have a relationship-oriented practice, missed appointments have declined more than 95%.
In addition to making the most of your patient appointments, you can also connect with your patients in other ways. Sending birthday and holiday greetings is a great way to stay connected. You can also stay connected through social media updates and email newsletters.
If your patients see you as a person rather than an appointment, they may be more likely to keep their appointments. 
Implement a Late/Missed Appointment Policy
This may be a controversial option as many physicians feel that by taking a relationship-based approach they do not need to implement this type of policy. However, putting this type of policy in place can be beneficial in some practices. 
Many physicians may put this type of policy in place but rarely use it. If they are in an area where many patients face financial hardships, having an outstanding fee could prevent their patients from accessing care when they need it. It could even result in a patient turning to walk-in clinics or changing providers if paying fees were a financial hardship. 
Set Boundaries
However, in some cases, having a policy in place can help to set boundaries. If patients are often habitually late having a policy in place where they lose their appointment after 15 minutes could help to rectify this and make your daily schedule run smoothly. Of course, this policy only works if you are also able to be on time. 
Be Transparent
Having a missed appointment policy only works if it is publicized. Post your no-show policy in your waiting room and include it on your intake forms. Be as transparent as possible so that your patients are aware of their responsibilities to reschedule their appointments. Consider giving your patients a 24-48 hour period so you are easily able to offer same-day appointments to those with an urgent need. 
Offer Incentives for your patients to keep appointments. 
If you are going to 'punish' those who miss or are late to their appointments, it only makes sense to offer incentives to those who keep their appointments. 
Consider putting the names of all the patients who keep their appointments and offer a monthly gift card. This is a great way to engage with your patients over social media and promote a great relationship between you and your patient list! 
Promoting this giveaway is a great way to gently remind and reward your patients for their courteous behavior. 
Follow-up with Missed Appointments
Missed appointments are often the result of your patient's forgetfulness. Sending your patient a 'sorry we missed you' message will encourage your patient to rebook their appointment. If you have a missed appointment policy, you could consider sending a first-time offender a message that offers to remove the missed appointment charge. This will both reinforce the fact that there is usually a missed appointment charge, yet ask the patient to rebook without penalty. 
Related: Barriers family face when accessing healthcare
Offer Virtual Care to Avoid Missed Appointments
If you look at the root cause for many missed appointments, they can easily be solved by offering virtual care. While many missed appointments are the result of simply forgetting an appointment, it is not the only reason. One Canadian study found that almost 25% of patients who miss appointments do so because they are too sick to attend. Transportation and childcare issues are also barriers to making their appointments. 
By offering virtual care you are eliminating all of these barriers that are preventing your patients from attending their appointments. With most appointments taking 15 minutes or less, many patients could easily fit their appointment during a break from work. Appointments can also be done while ill, with children present, and without using any transportation. 
Your Doctors Online Virtual Clinic also sends patient reminders straight to your patient's phone. These reminders do not require any work from your admin staff or extra cost from an outside service. 
Related: How to set-up virtual care in your small clinic
Virtual Care Offers Benefits for Patients and Your Practice
Not only can virtual care help to reduce missed appointments, but it can also increase efficiency, reduce the number of patients in your waiting room, and increase your practice revenue. 
With the rapid onset of COVID-19, modern approaches to medicine are rapidly changing. Today's patients are hesitant for in-patient care, busy waiting rooms, and unnecessary trips out in public. Virtual care is a modern solution to allow your patients to access the care they need from the comforts of home. By offering virtual care when possible, you can keep your waiting rooms open for those who require urgent in-person care. Having a smaller amount of patients in the waiting room can help patients who need in-person care to feel more comfortable accessing it. 
Your Virtual Care Solution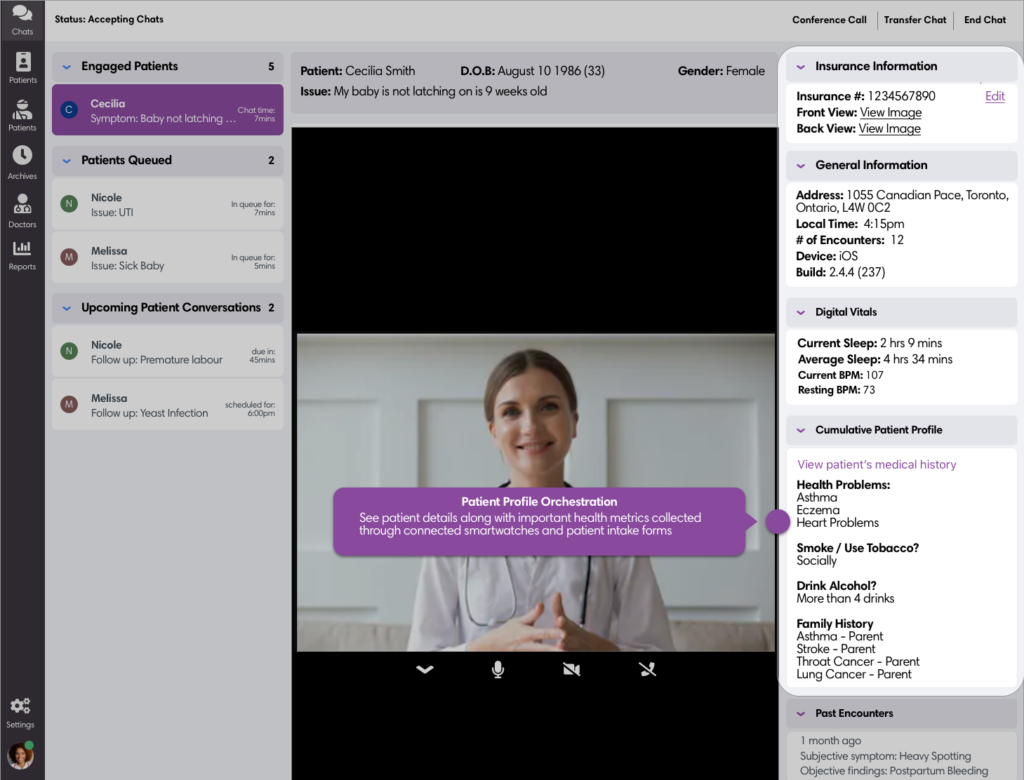 Your Doctors Online Virtual Clinic all-in-one solution. We offer a secure, easy to use scheduling, teleconferencing, and notation system. Our virtual care solution has the ability to increase both efficiency and revenue while lowering costs.
Easy to Use System
Onboarding your patients is as simple as sending an email. Our free smartphone app gives your patients the ability to fill out their own personal information, set their own appointments, queue for real-time consultations, and get push notification reminders about their appointments. 
Access Your Patient's Vitals from Home
Our smartphone app provides a snapshot of your patient's vitals to save valuable time and provide necessary insights that are not usually available during virtual consultations. 
Seamlessly Integrate to your EHR
Our secure HIPAA-compliant system seamlessly integrates to your EHR and is user-friendly for all computer literacy levels. Our SOAP templates allow for real-time documentation. These templates integrate seamlessly into your current EHR. This makes dental billing easy and requires less time per patient. 
Telemedicine is the Future 
While telemedicine is a great way to lower your amount of missed appointments, it also offers many modern advantages to both patient and practice. Modern patients appreciate the convenience and safety that is offered by virtual care. Learn more about how virtual care can help reduce missed appointments and improve your ROI.
Read Next: Easily Increase patient referrals for your practice.