An Overview of Seeking a Second Medical Opinion – Infographic
The infographic titled, "Seeking a Medical Opinion from World Class North American Specialists", talks about the importance of seeking a second medical opinion. As medical errors are one of the leading causes of death and injuries, a medical opinion can be really helpful in confirmation of diagnosis, building confidence in treatment, independent perspective and exploring other options.
After an initial examination and diagnosis with a doctor, a patient can look for and undergo the same evaluation process with another doctor to find out if the first diagnosis is precise and that the prescribed treatment is effective and efficient. More than 68% of people seeking a second opinion had a change in their treatment or diagnosis. By seeking a second opinion, you can avail more knowledge of your present condition and your options. Moreover, you'll be able to make informed decisions that can have long-term consequences.
A second opinion, especially in case of severe health conditions that are affecting your quality of life can ensure you have been diagnosed properly and are getting the best treatment. Ultimately, it could save you both time and money.
For more information regarding medical opinion, please refer the given infographic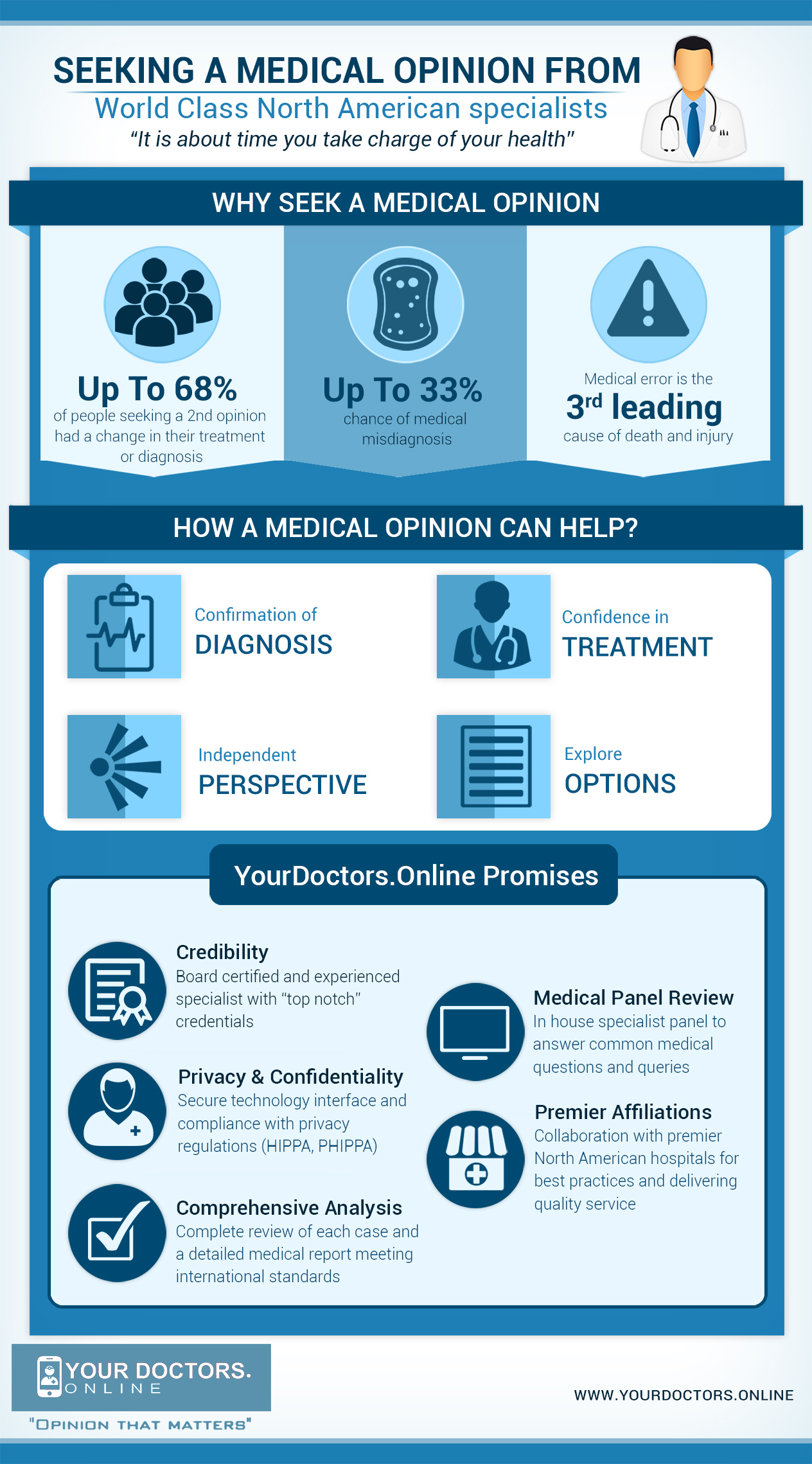 At YourDoctors.Online we have online doctors who answer your questions for all issues such as Pancreatitis, Leukemia, Lymphoma, Prostate Cancer, Blood Clot In The Lungs, Acne Scars, Burn Treatment, Sciatic Nerve, Meniscus Tear, Ruptured Disc, Spinal Fracture, Pregnancy Issues, Ovarian Cyst, Ovarian Cancer, Cervical Cancer, Fallopian Tubes, Hypertension. Click below to register:
Submitted by Dr. Asim Cheema: http://stmichaelshospitalresearch.ca/researchers/asim-cheema/